#ChurchTimesUp: Defining the Problem of Sexual Abuse by Clergy (continued 2 of 3)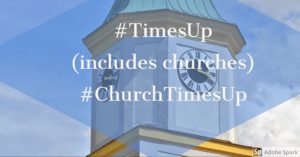 (continued)
As mentioned previously, the Church is not immune to sexual misconduct within it. It is imperative that we address issues openly in order to ensure trust as well as begin instituting protocol that will lead to lasting change.  Great news: we already have resources and guidelines based on years of research.  The next steps are standardization and implementation within the church community.  Most parishioners would be pleased to know their church is committed enough to their safety to implement a protocol applying to all clergy and staff.
THE PROBLEM
My work, as the author of SAFE SANCTUARIES, has shown me that sexual abuse by clergy in churches is pervasive, in that it happens in every region and every size of congregation, no matter how large or small, urban, suburban, or rural, resulting in physical/mental anguish and financial devastation.   The United Methodist Annual Conferences are doing what they habitually do at this time of year: providing Clergy Ethics continuing education courses for all clergy persons – men and women – aimed at eliminating clergy sexual abuse of women, children, men, and all vulnerable adults and teaching clergy how to report sexual abuse according to state laws.  We've been engaged in these efforts for more than twenty years.   The biggest factor impeding the creation of a culture of integrity and ethical behavior is that men and women bring these thoughts to every training event but a respectful dialogue which could lead to change has yet to happen.
I wonder, but am not fully convinced that the recent focus of #TimesUp and similar movements will force light upon the problem within the church and push a much needed dialogue resulting in a course of action for our churches to implement.
STAGGERING repercussions of Clergy Misconduct.   
Mental and physical suffering: 
The victims of clergy sexual abuse are often hushed for "the better good" of the church and told that silence afterward is the one and only way to heal.  I am not writing as a victim or a survivor. I am writing as one who has been trusted, over and over again, by those who experienced the hellatious reality of mandatory silence falsely labeled as a healing process. I'm writing as one who has heard, over and over again, the excuses and insulting rhetoric of the predators.
While writing this essay a few weeks ago, I was keeping an eye on the evening news. In a thirty-minute broadcast, three segments were reported on the topic of sexual abuse. Here they are:
In Georgia, legislators have introduced House Bill 662 calling on the lawmakers to define sexual harassment and to require mandatory training in workplaces for the prevention of sexual harassment/abuse
Victims of Dr. Nassar, physician to hundreds of children and young women, including U.S. Olympic gymnasts, testifying that not only did he sexually abuse them, sometimes with their parent in the room, but his office also billed them for the experience. Simultaneously, the university where he worked, denied any knowledge of any complaints against him.
United States Supreme Court Justice Ruth Bader Ginsburg recounted her own experiences of workplace sexual harassment and encouraged women to continue the fight to eliminate inequality.
The chief pastor of a large non-denominational church in Tennessee resigned after it was publicly revealed that a parishioner in a church where he previously worked had been sexually abused by him.

 

His public response was that the victim was not telling the story accurately.

 

The leaders of the church reported that this had been known by them when he was hired at the church; but, they had not known the full extent of the truth. They went on to say that if they had known, he wouldn't have been hired.
Reports and allegations of remarks by the president of a theological school amounting to sexual harassment of women, along with reports of advising women not to file police reports for sexual assault and rape became public recently.

 

Thousands of women signed a petition demanding his removal.

 

The board of the institution made him President Emeritus instead of removing him.
The financial reality: 
Most churches and denominations have invested a modest amount of their monetary and intellectual resources in efforts to reduce and prevent clergy sexual abuse (often euphemistically referred to as "clergy misconduct"). Vast sums of parishioners' tithes and offerings have been used to pay attorneys to protect, hide, and promote the predators. Millions of dollars, have been paid to victims as settlements or verdicts.  For example:
CASE ONE: A clergyman was sued by TEN victims and the jury returned a verdict of more than $100,000,000.00 against him and the archdiocese who harbored him.  In post-judgment negotiations, the parties settled the case for $24,000,000.00 approximately.
CASE TWO: This case involved claims of abuse by more than TWO DOZEN victims who reported that one clergyman had sexually abused them.  This case also settled for approximately $24,000,000.00.
These verdicts, along with the hundreds of other cases and payouts, haven't eradicated sexual abuse by clergy in any denomination or in non-denominational churches. In relatively few instances are the predators stripped of their ordination credentials or sent to jail.
NEXT WEEK:  Working toward Solutions: There IS hope for POSITIVE CHANGE!